When Life Hands you Lemons…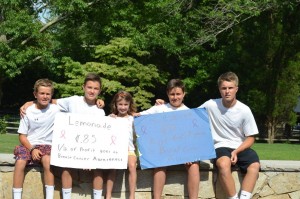 Sibley recently thanked Bob (12), Henry (14), Mary Elizabeth (7), Locke (11) and John (14), for their donations to Sibley in an effort to raise awareness of breast cancer by selling lemonade and goldfish crackers on June 13 and 14.
The kids came up with the idea to donate their proceeds to Sibley because Bob and John's mother, Mary Ella Carter, M.D., works here as a plastic surgeon. Dr. Carter's sister, Anna, is the mother of Henry, Locke and Mary Elizabeth. Anna is a breast cancer survivor who has benefited from Sibley's yoga for women cancer survivors and the support of its members and survivorship navigator Pam Goetz. The kids plan on hosting another lemonade stand in the future. Learn more about the yoga programs here: http://bit.ly/1WT2dZR.